TORNAR-SE EMPREENDEDOR OU PERMANECER EM UMA GRANDE EMPRESA: SONHO OU ESTABILIDADE?
Keywords:
Empreendedorismo, Plano de Negócios, Características Empreendedoras
Abstract
O presente trabalho trata de um caso real que visa apresentar através de um dilema pessoal a trajetória de Gabriel frente à necessidade de seguir seu sonho ou permanecer na SinkSul onde ao longo de 14 anos desenvolveu sua carreira adquirindo estabilidade financeira. Gabriel vem se desdobrando entre os trabalhos na SinkSul e seu empreendimento, comprometendo sua vida familiar e pessoal. O caso se destina a estudantes de graduação em Administração, focado na disciplina de empreendedorismo. O aspecto de ensino-aprendizagem parte de alguns conceitos sobre empreendedorismo trazendo os diferenciais dos empreendedores, que motivados pela paixão, deixam sua marca através de seu papel em sociedade, sendo admirados e seguidos por outros empreendedores. O caso pode oferecer situações para orientar os leitores em suas escolhas profissionais. Os alunos devem refletir e abordar conceitos de empreendedorismo, importância do plano de negócios e características empreendedoras de Gabriel, criando discussão e o encaminhamento para a solução do caso.
Downloads
Download data is not yet available.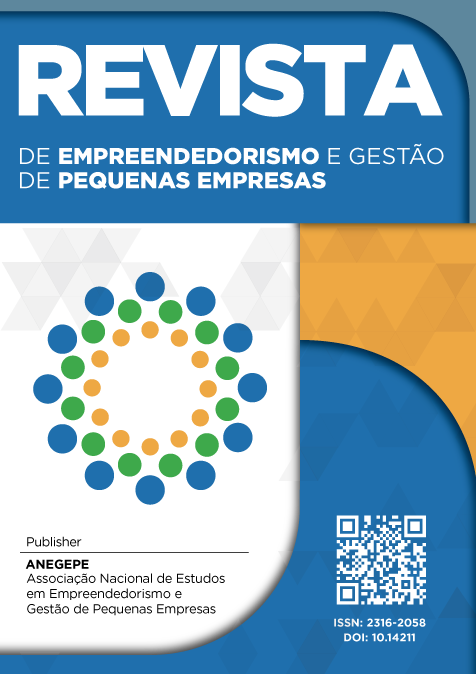 Downloads
How to Cite
Baccin, S. S., Pereira, C. M. D., Marinho, S. V., & Alberton, A. (2015). TORNAR-SE EMPREENDEDOR OU PERMANECER EM UMA GRANDE EMPRESA: SONHO OU ESTABILIDADE?. REGEPE Entrepreneurship and Small Business Journal, 4(1), 169–188. https://doi.org/10.14211/regepe.v4i1.175
License
Authors who publish with this journal agree to the following terms:
1. The author(s) authorize the publication of the article in the journal;
2. The author(s) ensure that the contribution is original and unpublished and is not being evaluated in other journal(s);
3. The journal is not responsible for the opinions, ideas and concepts expressed in the texts because they are the sole responsibility of the author(s);
4. The publishers reserve the right to make adjustments and textual adaptation to the norms of publication;
5. Authors retain copyright and grant the journal right of first publication, with the work after publication simultaneously licensed under a Creative Commons (CC BY 4.0) that allows others to share the work with an acknowledgement of the work's authorship and initial publication in this journal;
6. Authors are able to enter into separate, additional contractual arrangements for the non-exclusive distribution of the journal's published version of the work (e.g., post it to an institutional repository or publish it in a book), with an acknowledgement of its initial publication in this journal;
7. Authors are permitted and encouraged to post their work online (e.g., in institutional repositories or on their website) prior to and during the submission process, as it can lead to productive exchanges, as well as earlier and greater citation of published work (See The Effect of Open Access) at http://opcit.eprints.org/oacitation-biblio.html.