EVOLUÇÃO DO CAPITAL SOCIAL EMPREENDEDOR DOS SPIN-OFFS UNIVERSITÁRIOS
Keywords:
Spin-offs, capital social, empreendedorismo.
Abstract
Apesar de a literatura do campo do empreendedorismo reconhecer a evolução do capital social, ao longo do processo de criação de uma empresa, as pesquisas até aqui realizadas registraram, em geral, a estrutura da rede em certo momento e não as mudanças ocorridas nessa estrutura ao longo do tempo. Frente a esta lacuna, o objetivo deste artigo é responder a seguinte questão: como evolui o capital social empreendedor ao longo de processo de criação de um spin-off universitário? Para tanto, são aqui apresentados os resultados de uma pesquisa indutiva, exploratória e qualitativa realizada com oito casos de spin-offs universitários. O processo de criação de spin-offs é dividido em quatro etapas (iniciação, preparação, lançamento e consolidação) e os contatos da rede mobilizados pelos empreendedores são analisados em cada uma destas etapas. Os resultados indicam que na etapa iniciação, o capital social mobilizado é essencialmente tecnológico e que ele progride e se diversifica até a etapa de consolidação, onde ocorre o crescimento da mobilização da rede de negócios. O artigo mostra a importância dos empreendedores anteciparem a mobilização dos contatos de negócio e a necessidade das universidades e suas incubadoras favorecerem esse tipo de relação.
Downloads
Download data is not yet available.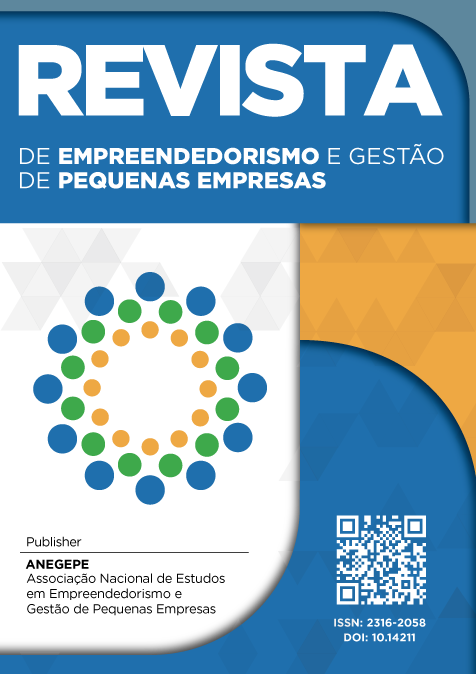 Downloads
How to Cite
Borges, C., & Filion, L. J. (2012). EVOLUÇÃO DO CAPITAL SOCIAL EMPREENDEDOR DOS SPIN-OFFS UNIVERSITÁRIOS. REGEPE Entrepreneurship and Small Business Journal, 1(1), 3–31. https://doi.org/10.14211/regepe.v1i1.12
Section
Research Articles
License
Authors who publish with this journal agree to the following terms:
1. The author(s) authorize the publication of the article in the journal.
2. The author(s) ensure that the contribution is original and unpublished and is not being evaluated in other journal(s).
3. The journal is not responsible for the opinions, ideas and concepts expressed in the texts because they are the sole responsibility of the author(s).
4. The publishers reserve the right to make adjustments and textual adaptation to the norms of APA.
5. Authors retain copyright and grant the journal right of first publication, with the work after publication simultaneously licensed under a (Creative Commons (CC BY 4.0) that allows others to share the work with an acknowledgement of the work's authorship and initial publication in this journal.
6. Authors are permitted and encouraged to post their work (Submitted version, Accepted version [Author Accepted Manuscript], or Published version [Version of Record]) online, e.g., in any repository, Any website or Author's homepage , as it can lead to productive exchanges, as well as earlier and greater citation of published work. The REGEPE ask as policy conditions for the Authors to: Must link to published article with DOI. See the Effect of Open Access at: http://opcit.eprints.org/oacitation-biblio.html