INFLUÊNCIA DO INVESTIMENTO ANJO NA TOMADA DE DECISÃO E NOS PROBLEMAS DE AGÊNCIA: UM ESTUDO DE CASO
Keywords:
Investimento anjo, teoria da agência, tomada de decisão
Abstract
Neste trabalho é analisado como a tomada de decisão dos investidores anjos afeta os conflitos de agência. O objetivo principal é entender, com base na Teoria da Agência, como o investimento anjo, a tomada de decisão de investimento e os agentes se relacionam, bem como identificar impactos positivos e negativos desta prática. Para isso, foram elaboradas proposições com o intuito de confirmar ou não tais conflitos de agência em uma empresa investida. A estratégia de pesquisa utilizada foi o estudo de caso, com seleção por representatividade qualitativa por ser um caso típico, a fim de analisar o investimento anjo na empresa Ecobike Courier. Como técnica de coleta de dados, foi realizada uma entrevista em profundidade com o sócio-fundador da empresa citada. Sendo assim, a participação na tomada de decisões por parte do investidor anjo é analisada com base nos problemas de agência, apontados por Damodaran (2002).
Downloads
Download data is not yet available.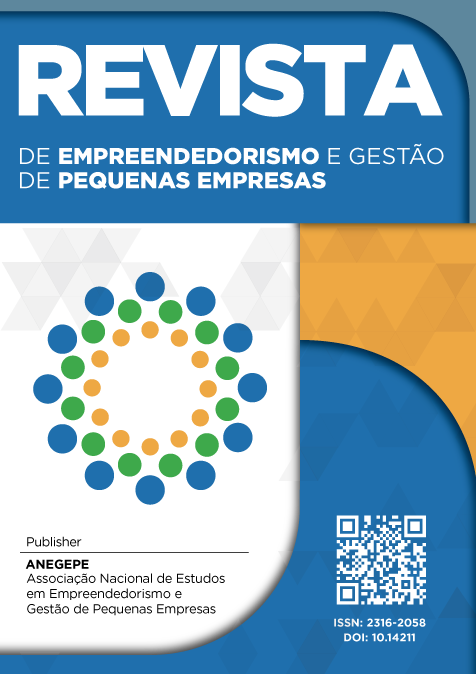 Downloads
How to Cite
Braga, G. S., Horbucz, K. da S. N., & Cherobim, A. P. M. S. (2015). INFLUÊNCIA DO INVESTIMENTO ANJO NA TOMADA DE DECISÃO E NOS PROBLEMAS DE AGÊNCIA: UM ESTUDO DE CASO. REGEPE Entrepreneurship and Small Business Journal, 4(1), 152–168. https://doi.org/10.14211/regepe.v4i1.212
Section
Research Articles
License
Authors who publish with this journal agree to the following terms:
1. The author(s) authorize the publication of the article in the journal.
2. The author(s) ensure that the contribution is original and unpublished and is not being evaluated in other journal(s).
3. The journal is not responsible for the opinions, ideas and concepts expressed in the texts because they are the sole responsibility of the author(s).
4. The publishers reserve the right to make adjustments and textual adaptation to the norms of APA.
5. Authors retain copyright and grant the journal right of first publication, with the work after publication simultaneously licensed under a (Creative Commons (CC BY 4.0) that allows others to share the work with an acknowledgement of the work's authorship and initial publication in this journal.
6. Authors are permitted and encouraged to post their work (Submitted version, Accepted version [Author Accepted Manuscript], or Published version [Version of Record]) online, e.g., in any repository, Any website or Author's homepage , as it can lead to productive exchanges, as well as earlier and greater citation of published work. The REGEPE ask as policy conditions for the Authors to: Must link to published article with DOI. See the Effect of Open Access at: http://opcit.eprints.org/oacitation-biblio.html